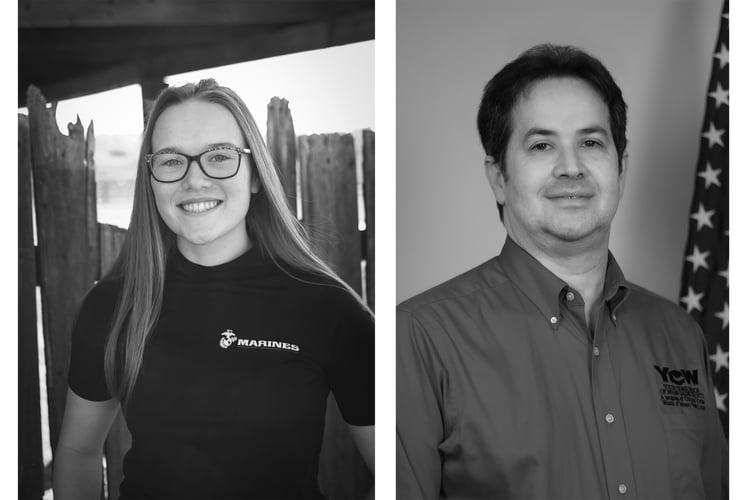 Congratulations to both Abbigail Waters (left) and Joel Mesa (right), this year's Enrique Camarena Red Ribbon Award recipients. This annual award recognizes and honors those who make significant contributions to the field of drug prevention.
Abbigail Waters is the youngest member of the Young Marines Alumni Association. Young Marines and volunteers make a commitment to make a difference personally as well as within their communities. Abbigail committed to Young Marines as a youth member in 2014. For 7 years, she not only learned the importance of teamwork, leadership, discipline, and the importance of living a healthy, drug-free lifestyle personally, but she also set the example for others to emulate. During her time in the program, Abbigail has completed over 200 hours of Drug Demand Reduction. Many of those hours were committed to making a difference in her community by spreading awareness during Red Ribbon Week, working with the Preventing Alcohol and Risk Related Trauma in Youth (P.A.R.T.Y) Program of the University of Colorado Hospital and Colorado State Patrol, leading presentations within her community, and creating new prevention projects. Beyond her prevention work, Abbigail Waters has committed nearly 1,500 community service hours to many other veteran's service projects, Toys for Tots, Wreaths Across America, and color guards. This does not include the countless hours that she has spent developing her peers and later mentoring our youth as an alumnus.
Joel Mesa was a Youth Crime Watch Administrator/School Coordinator of Citizens' Crime Watch of Miami-Dade County. He is certified as a Florida Crime Prevention Practitioner by the Office of the Attorney General. Joel administers the youth crime watch program of Citizens' Crime Watch of Miami-Dade County. He has conducted over 2,000 youth crime prevention presentations on numerous safety topics to over 200,000 students during the last 23 years. He has trained principals, teachers, counselors, students, security monitors, and school resource officers on implementing youth crime watch programs in Miami-Dade County schools.